Photovoltaics
Complex technological solution of local, renewable energy source.
Efficient and environmentally friendly production of electricity for companies, cities and institutions.

Already 8 m2 of photovoltaics are enough to cover the average electricity consumption per inhabitant. Solar radiation is a renewable energy source that is eternal and free of charge. The photovoltaic panels are still more than 90% recyclable after their 30-year lifetime.
On photovoltaic panels that we use in our projects we provide 12 years warranty and 25 years performance guarantee. This means that the efficiency of the panels will be at least 80% even after 25 years of use.
Harmonized mounting system
Our mounting systems are the basis for a perfectly harmonized appearance - whether it is a roof covering or trapezoidal sheet on the roofs of commercial or industrial buildings. All mounting options are quick, safe and static-approved.
The efficiency of photovoltaic modules reaches up to 19.6% for monocrystalline version. For polycrystalline panels, efficiency is 17.5% with a guaranteed 80% performance even after 25 years.
Qualification of suppliers, certified production control, input and output control. This is the German quality and above-standard guarantee of solar performance of our complete photovoltaic system.
Guaranteed energy service
with investment financing for cities and businesses
As the number of renewable energy systems increases, the demand for own electricity generation is increasing. Today, a powerful photovoltaic system offers cost-effective use of solar energy.

By installing photovoltaic modules, the operator signals his responsible behavior in relation to the environment and actively contributes to climate protection by significantly reducing CO2 emissions. With continuously rising energy costs, photovoltaic equipment contributes to cost savings and additionally reduces dependence on energy suppliers.

The average return on investment of a photovoltaic system is 5 to 7 years.

Our company has more than 10 years of experience with large-scale energy projects, which are financed from savings achieved and in the long term bring a guaranteed energy savings.


GES PVE - Guaranteed Energy Service for Photovoltaic Energy
For cities and companies, we offer a comprehensive financial solution in the form of a Guaranteed Energy Service, with the refinancing of the entire investment in the photovoltaic system.

In short, this means that we will design, supply and install a photovoltaic system for which you will pay only as much as solar panels will save you from electricity generated.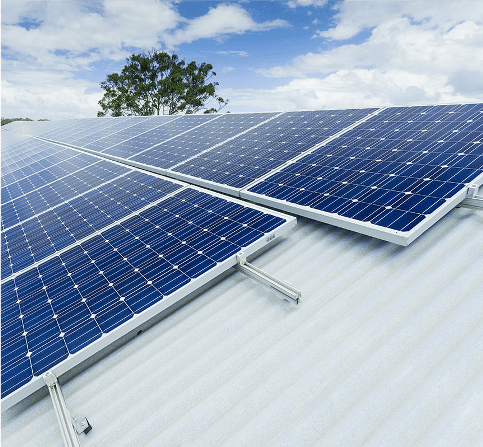 I'm interested in GES PVE
A selection from our references